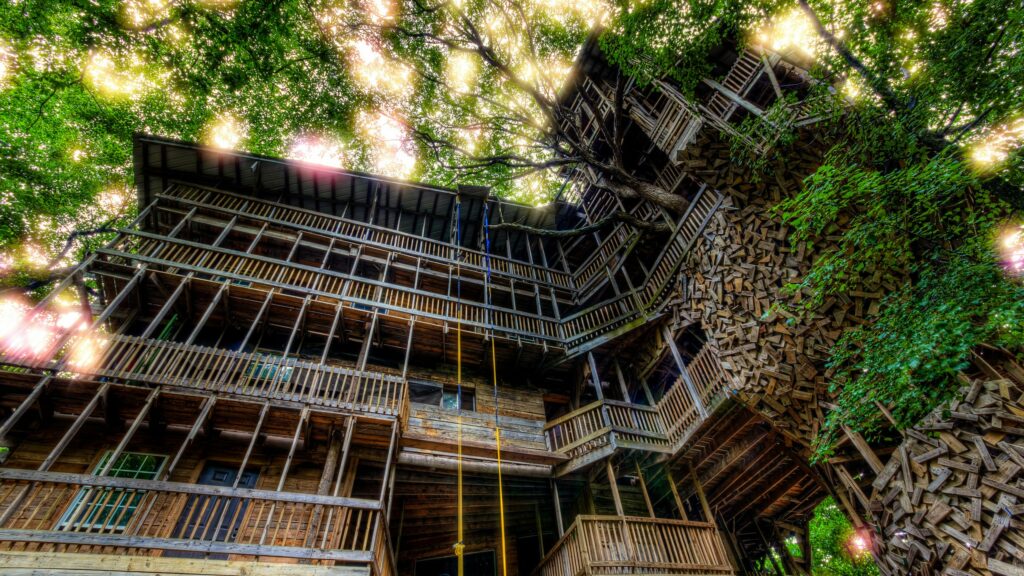 Sadly, one of our treehouse inspirations burned down recently.
It took about 15 minutes for the world's largest treehouse—a 97-foot-tall wooden structure in Crossville, Tennessee, to be reduced to a pile of ash. The building was built in the early '90s by Harold Burgess, who said in an interview that he had been called by God to raise the framework: "If you build a tree house, you'll never run out of material." And so he did. 
Here's an article about his work in Architectural Digest: https://www.architecturaldigest.com/story/worlds-largest-treehouse-burned-ground-less-15-minutes
We do think about fires – one has to these days. ZenTreehouse has been designed with as much fireproofing as possible – steel foundation, clearing enough space around the house per the fire department regulations, and building with as much fireproof material as possible. And just in case, we've thought about fire escape through the back of the house.
The back deck is roughly 40′ above the ground. So, if fire blocks the front door, where do you go? We're going to build a trap door in the deck that you can only open from the top and that takes you down to our "maintenance platform," which is a wire mesh floor that's about 10′ below the house. This platform is so we can access the bottom of the house for repairs of the systems that run under the house (primarily the hot water radiant floor heating system). That platform will also provide an easy way to get out of the house from the back and to safety.
RIP Largest Treehouse In the World.