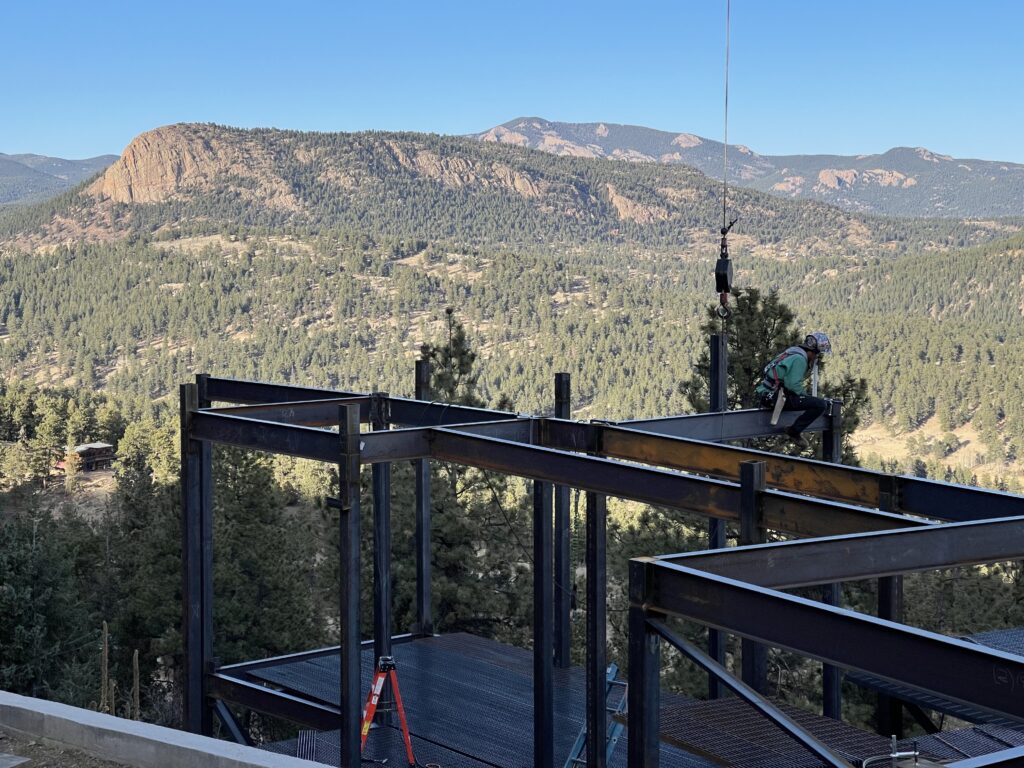 The steelwork is coming along right on schedule. Josh and his crew from Native Fabrication are doing an amazing job having cleaned up all the unfinished work from our last welding subcontractor and getting the rest of the steel in place in record time.
We met at the site with our General Contractor, Cary Dunn, and our Interior Designers, Eric and Sean from Mandil, Inc. My wife Delinda and I have worked with Eric Mandil for more than a dozen years now. He's led the design work for all of our restaurant projects. You can see a few pictures of his work at our first Indulge Bistro & Wine Bar location here. Since then, he's been instrumental in our expansion and vision to build Indulge as a restaurant company focused on the female demographic, with interiors that make women feel comfortable and special.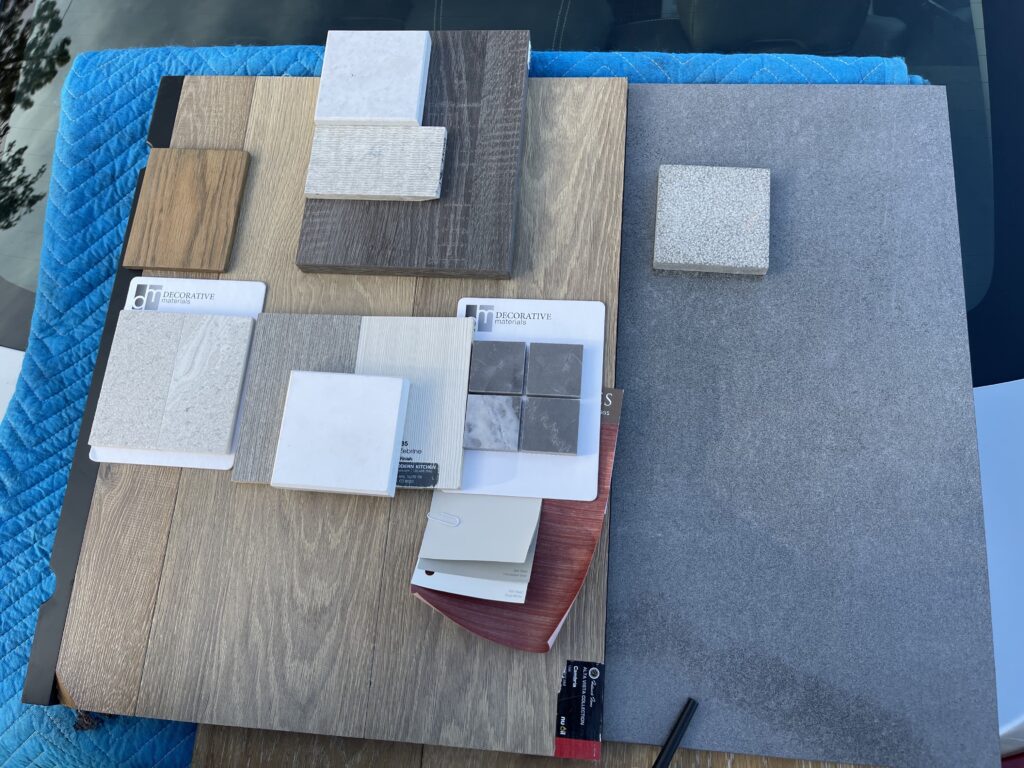 They put together an amazing palate of materials for the treehouse. The above image shows all the different materials that we will be using. You can see the hardwood floor selection, which will be everywhere except for the bathrooms and kitchen and will be heated using radiant floor heat. The kitchen cabinets, backsplash and countertop samples are sitting at the top on the hardwood floor sample. The bathroom cabinets, countertop and shower tile samples are just below that. The rectangular wood sample is what will cover the exposed beams in the ceiling. The little squares to the right are what will go on the shower floors and a larger 18 x 36 tile of the same style will be the kitchen and bathroom floors. The large tile to the right of the hardwood floor sample is what will be on the fireplace in the living room and the other smaller tile sample will be on the fireplace in the master (but much larger tile size). The wallpaper will be in the bathrooms and you can see the two paint samples on top of the wall paper.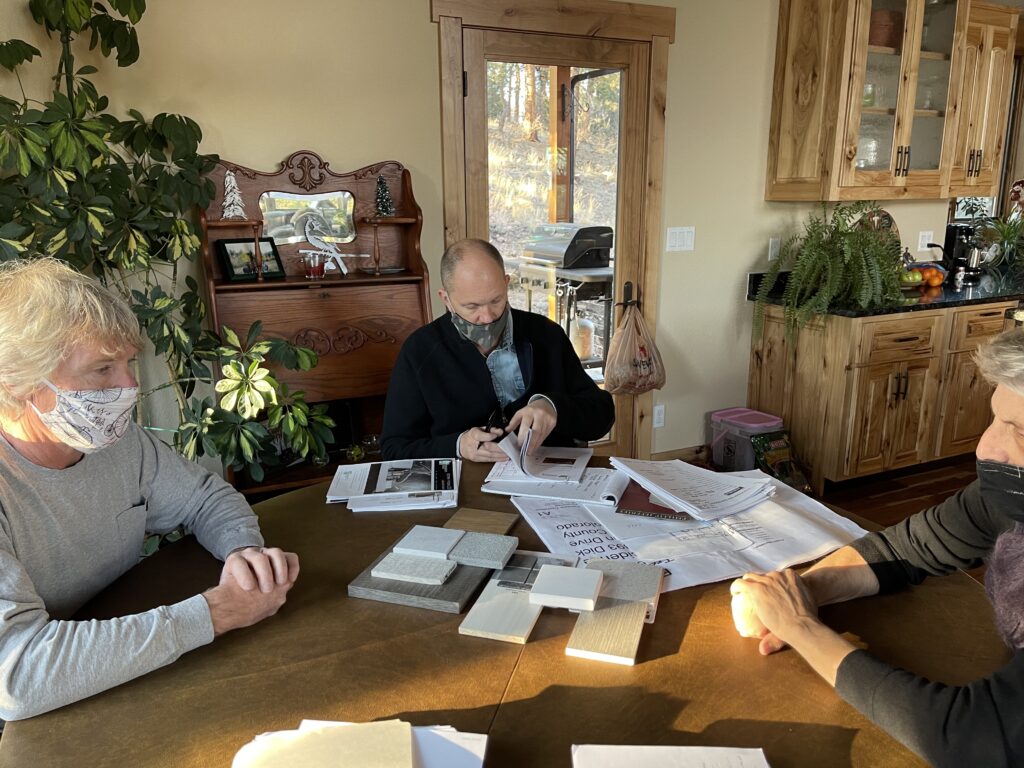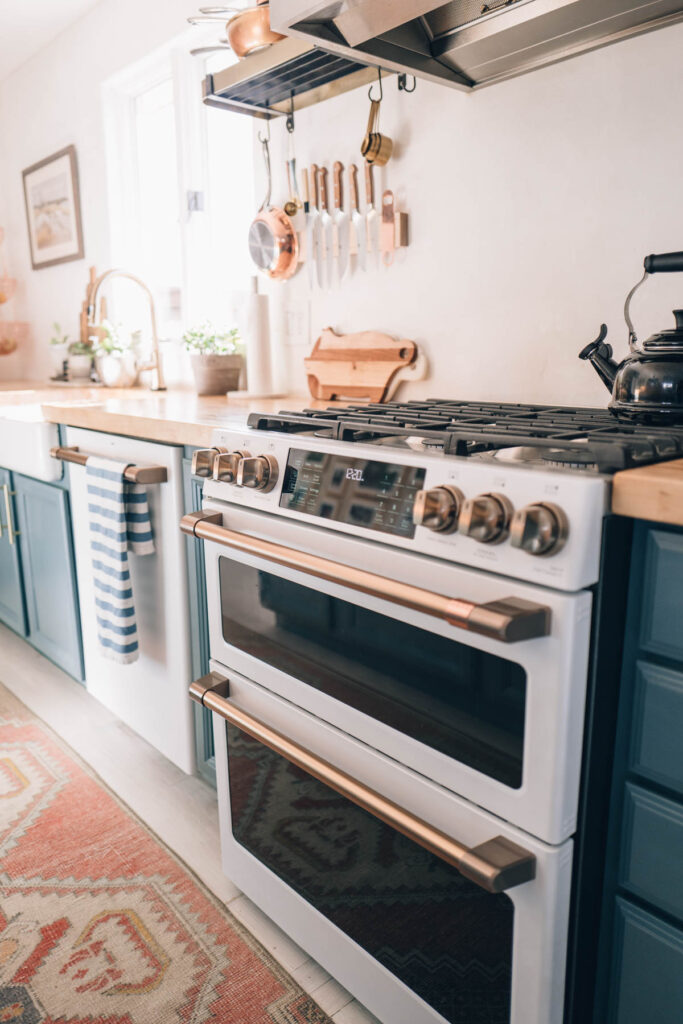 Because of all the supply chain disruptions caused by COVID-19, we had to order our appliances now – even though we are 6-7 months from completion – to be sure we have them in time. Three of the six appliances we ordered are on backorder with no firm date for delivery. Ugh. Fingers crossed that they get here by June!
We picked the new line of Café appliances. They have a matte white finish (no fingerprints!) with brushed bronze hardware. It's a really stunning look that we love. What do you think? If you haven't heard of this brand before, here's a blog that goes in depth about them and how much they love these appliances – both how they look and how they function.
I'll leave you with a short video clip of the steel construction work. They will wrap this up in the next week and then framing will begin by mid-December!
Happy Thanksgiving everyone!
Peter and Delinda