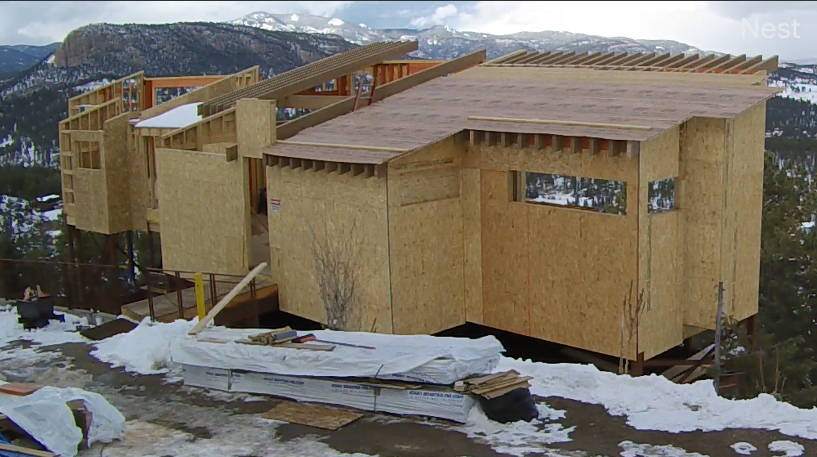 It's been a while since I wrote a construction update, so here it is. As you can see from the image above, taken today, the ZenTreehouse has a (partial) roof and beams and is really looking like a house now! We're about a week delayed because of two snowstorms that each brought about 2 feet of snow to the building site. The weather forecast is looking good (at this point anyway) for next week when the plan is to drop the biggest and longest beams in with the crane – the ones to the left of the front door. Those span the entire width of the house, from the kitchen wall (closest to us) to the back wall where the windows and large sliding door is (that area that doesn't have beams yet in the middle). They should also be able to get the beams up on the guest cabin.
You'll see where they have partially installed the tongue and groove ceiling planks. Both the beams and these planks have been pre-stained to spec prior to installation. We're also pre-staining all the wood siding to provide a better, more uniform finish to the wood.
Goal for the next four weeks is to complete the roof (not the metal roofing yet though) and install the windows and doors. These are coming from Pella and were ordered a couple of weeks ago, so they should be at the site in the next 2-3 weeks. Then they'll work on the siding while we get the plumbing and electrical contractors out to get their work done. Things should REALLY be moving by then! ETA is still looking good for August. We'll see. Fingers crossed!
I'll leave you with this video I posted on our YouTube Channel a while ago (ZenTreehouse) of our friends Susan and Tim coming up to the Treehouse for the first time. They'd seen pictures and video, but for the first time really experienced it live and in person. Fun to see their reactions!

Cheers friends!